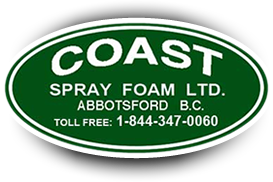 Addressing Mold In Your Home
Mold is one of those growing fungi that most everyone is not fond of. From its hairy appearance on food, to its unsightly growth in showers, mold is simply not something we want to deal with in any capacity.
Having mold in your home is a great concern, one that we at Coast Spray Foam take seriously.
Unfortunately, once mold has had a chance to get into your carpets or ceilings, they will need to be replaced. So taking preventative measures to guard against mold entirely, is an ideal approach.
Mold isn't preferential; it can grow most anywhere that moisture and oxygen occupy. Whether it's paper, carpet, wood, or even insulation, mold can set up shop in all kinds of environments.
So if moisture is one of the needed substances to "grow" mold, the solution would be to have a home that is free from moisture sitting dormant in or on any one space.
That is why spray foam insulation is the insulation of choice in order to prevent mold from occurring in your home. Because spray foam insulation expands within the space it is sprayed into, it seals airtight – keeping air and moisture from existing in that space.
However, don't confuse this airtight insulation for a product that cannot breath. You home will still maintain filtered air through intake and outtake points, but areas such as walls and your attic won't be subject to damp conditions.
Polarfoam is one of the various insulations we provide our customers with. It is a soya-based polyurethane derived from a vegetable base, and is rapidly replenishing and environmentally friendly.
No matter if you plan to stay in your home straight through to retirement, or you are currently retired in your home …safeguarding against mold will ensure you remain free of health concerns such as an itchy throat, nasal stuffiness, eye irritation, coughing, and even skin irritations – now and for years to come. Severe reactions can cause irreversible damage to your lungs, so allow us to ensure both your home and office space is as dry, safe, and mold-free as possible.
In addition to spray foam, our services also include:
Batt Insulation Application
Fireproofing (parkades)
Soundproofing (Ceilings & Walls)
Blown Insulation Application
Frost Protecting Sprinklers
Crawlspaces
Foam Gasketing – R2000 & ADA
Firestopping
Air sealing
Call us today, or book a consultation to ensure your home of place of business is mold free!