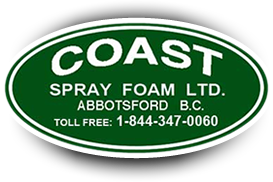 Answering Insulation FAQ's
At Coast Spray Foam Insulation, we receive a lot of questions surrounding the topic of insulation. From the very basics of what insulation is, to how insulation is rated, to how one would know if their home is poorly insulated, and so on. So we wanted to take a minute to answer some of these frequently asked questions, and help our potential customers making an educated decision on their insulation needs.
What is Insulation?
Insulation, in general, helps to keep air from the outside of your home or business from getting inside, and it also keeps warm and/or air conditioned air in. This is done by actually "trapping" pockets of air, and lessening the air permeation overall.
CMHC (the Canadian Housing and Mortgage Corporation) considers a "well dressed" home (or a properly insulted one) to be an important buying factor, one that will keep your home warm and dry (or cool and dry) year after year.
How Insulation is Rated
Although it might seem like a trivial matter, insulation is actually rated based on a measurement of resistance the insulation material has to the movement of heat, and the inflow and outflow of hot and cold air. Basically, the higher the R-value is, the more efficient the insulation is.
How You Know if Your Home is Poorly Insulated
Some simple ways in telling whether or not your home is poorly insulated, is whether your walls and floors are perpetually cold in the winter, and hot humid air seems to be a stagnant concern during the summer. A high-energy bill can also be a red flag.
At Coast Spray Foam, we want to ensure your home is providing you with the comfort you deserve, and help you reduce your utility bill with a more efficient insulation product. So call us today, and allow us to answer any questions you might have, and get you on your way to a more energy efficient and cost effective home!