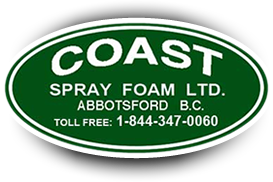 Choosing Eco-Friendly Insulation for Spring
Insulation that provides benefits beyond simply keeping your home warm, is an important consideration for a lot of home and business owners alike. People are looking for eco-friendly ways in which to live …which includes how they build their home or business too.
Eco-Friendly Considerations
Is Your Insulation Durable?
Polyurethane insulation (spray foam insulation) is known to far outlast fiberglass, as well as increases structural integrity of your dwelling. It isn't susceptible to water damage, and its lifespan is as lengthy as that of the building that contains it.
Does Your Insulation Guarantee Quality Assurance?
At Coast Spray Foam Insulation, we are certified polyurethane spray foam insulation installers. Our staff is comprised of individuals who have taken the required courses to install, inspect, and maintain the standards set out by both the product manufacturer, and the Canadian Urethane Foam Contractors Association (CUFCA).
Does Your Insulation Provide Noise Reduction?
Spray foam insulation provides an amazing and noticeable reduction of noise pollutions from room to room as well as from the outdoors. If you live in an area with high traffic, trains, or have a rental suite …spray foam insulation can noticeably reduce any noise created by such things.
Does Your Insulation Offer Optimal Air Quality?
Air quality in your home or business is an important factor to consider. Spray foam insulation provides an airtight seal, allowing for less pollutants and moisture to leak into your space. All while breathing through intake and outtake points accordingly.
Is Your Insulation Environmentally Friendly?
At Coast Spray Foam Insulation, we provide spray polyurethane foam (closed-cell or open-cell) that is vegetable based (rapidly replenishing) and environmentally friendly. As a result many 'green' based organizations like LEED® and GREENGUARD® promote the use of such products. Builders who use spray foam insulation are able to qualify for incentive programs through such organizations; including others programs like those through BC Hydro, Fortis, and Energy Star.
So with all the benefits of spray foam insulation, it's well-worth giving us a call so we can provide you with a free quote, and help you fully understand the benefits for your home or business!