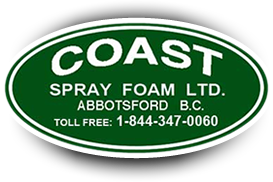 The Environmentally Friendly and Functionality of Polarfoam
At Coast Foam, we are proud to use an insulation product known as Polarfoam. It is an environmentally friendly insulation, providing maximum performance due to the nature of the closed cell rigid polyurethane foam.
This spray insulation will self-adhere to most any substance, and provides an incredibly strong centre for any building. This type of insulation should only be applied via a certified applicator, as it does require a specific skill set to apply.
Polarfoam is made from recycled plastic, vegetable oil, has a zero ozone depletion substance, and is an ecological product.
In addition to this insulation being environmentally friendly, it also provides an air and vapor barrier, promotes energy efficiency – resulting in noticeably lower utility bills, and seals out allergens such as dust and pollen.
Research shows that 40% of a building's heating, is lost through air leakage, and with Polarfoam exceeding 500 times the requirements of NBC's air barrier material …this insulation product far exceeds requirements and expectation.
So not only will this environmentally friendly insulation provide you with peace of mind, that you have not left yet another environmental footprint on the earth, it will save you money, prevent allergens, and stand the test of time!
Give us a call if you have any further questions, or to provide you with a quote.