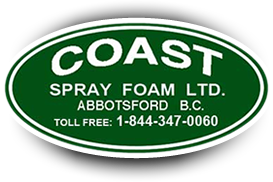 Insulating Your Home …the 101 on the 411 (Part 2 of 2)
Did you know there are variances of effectiveness in the insulation that is installed in your home? Provincial building codes specify different values for new construction, how your insulation is installed, as well as what type of insulation that is installed …which all plays a role in the "R Value" of the insulation.
Understanding the Insulation Value System
Basically, effective insulation systems prevent or reduce the heat loss from your home as well as ensure the moisture is kept out.
In order to create an insulation environment conducive with that, these are the usual steps that Coast Spray Foam follows:
We create an air barrier, which prevents the movement of interior or exterior air through your exterior walls and ceilings
We ensure all cavities are filled, leaving no gaps or cracks …which our spray foam insulation does well
We often use a vapor retardant as well, such as polyethylene sheeting, which prevents moisture from moving from warm interior spaces
You should also understand the difference between Attic Insulation and Basement Insulation.
Attic Insulation
Attics are a great place to start an insulation projects. It is where a lot of heat is lost. By filling the ceiling joists with insulation, you can reduce or eliminate heat loss, and reduce heating costs greatly.
Basement Insulation
Basements should not be ignored either. They are often a breeding ground for moisture, so having them appropriately insulated can prevent moisture from entering your home.
Stop mold before it happens, because it is a pesky thing to rid your home off once it appears, and also affects your health.
Whether you are looking to insulate your new construction project, or re-insulate an existing home or place of business, both are well worth considering spray foam insulation for. It is one of the most environmentally friendly products on the market, and will save you on household costs and future headaches.
A poorly insulated home will end up costing you more in the long run, so ensure you choose effectively. If you are building a new home, it makes sense to use the most results-driven insulate, and save the re-do in the not-so-near future.
At Coast Spray Foam we are happy to provide a free quote and an in-person consultation!