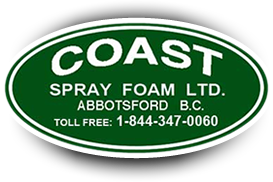 Insulation …helps reduce household costs
Perhaps you have heard it said that – life isn't (just) about living, it's about living well. We couldn't agree more.
The local news recently reported that in the next year, the cost of running your home will increase by $100. This increase is due to "improvements" being made by a Canada-wide endeavor on our water supply.
This may or may not add to the "living well" concept, as it pertains to good drinking water, but it certainly doesn't add to your pocketbook, which –in turn- takes away from your disposable income.
Increased costs have never sounded like a positive improvement to anyone, ever. That is why, at Coast Foam, we are always happy to share with others about various power-saving measures.
Did you know that spray foam insulation could actually help cut your heating costs up to 40%? Perhaps this could even-out the increased costs of other expenditures on the rise, and help maintain your disposable income as is. Or even – increase it!
We have found spray foam insulation to continually be the first insulation choice for a variety of reasons…
1.  It seals tighter to surfaces like wood and concrete, as well as difficult little nooks, around windows, doors, and vents.
2.  It reduces the amount of noise pollution between exterior walls, and is effective at combating noise pollution between certain rooms within a building (i.e. laundry room and media rooms).
With ever-increasing building codes and requirements aiming to build energy efficient spaces – whether that is residential or commercial – traditional fiberglass is not meeting the demands. Polyurethane spray foam insulation is emerging as the industry standard for environmentally friendly, energy efficient source of insulation.
So if you are looking to build or refurbish your home or place of business, consider having a conversation with Coast Foam prior to making any insulation decisions. We will be able to educate you on the many benefits it offers, and discuss if this is the right choice for you!