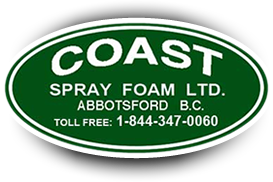 Put Your Heating & Cooling Bills on a Diet!
No matter which service provider is keeping your home warm in the winter and cool in the summer, they all seem to add too much overhead costs to our overall expenses. So we have some suggestions on how to save and safeguard against added housing expenses!
Polyurethane  Spray  Foam  Insulation  Reduces Energy Consumption
Research shows that up to 40% of a buildings heat is lost due to a poor building envelope. Spray foam insulation seals tighter to surfaces like wood and concrete; seals tighter in difficult little nooks; and seals tighter around windows, doors, and vents.
So much money is lost every month due to poorly insulated homes or businesses. Although the initial cost of re-insulating your home might concern you, we can offer you a better idea of how much it will SAVE you in the end.
Consider re-insulating if
Your home was built before 1980
You are planning on remodelling
You notice variable temperatures in your home
Your outside noise reduction is not sufficient
You are paying more than your neighbours for heating costs
Heating Costs & Your Business
Businesses built more than 20 years ago should also look at overhauling their insulation. Again, we can appreciate the initial cost, but the savings will be immense if you can improve your building's energy efficiency.
Your HVAC system (heating, ventilation and cooling) accounts for in excess of half your entire energy expenses in your place of business. By simply switching your insulation with an improved product, it can have an economic impact that is incredibly effective and noticeably dramatic.
Heat loss comes from air transmissions through walls, windows, doors, floors, as well as the roof. In addition, ventilation and air infiltration are also factors. This combined impact takes into account the temperature difference between your indoor air and the outdoor air as contributed via the buildings material it is comprised of.
So home or business, summer or winter, taking the time to have your insulation looked at could results in thousands of dollars in savings, compounded by however many years that building is part of your overall expenditures …which we feel is well worth looking into!
At Coast Spray Foam, we're here to help – let us know how we can do so.