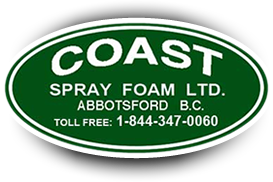 Understanding the Link Between Poor Insulation and Mold in Your Home
Many people don't take into consideration the link between their home or business's  insulation, and the risk mold plays on their dwelling or work environment. Having a poorly insulated home, one that has too much – or even not enough – air permeation, can cause mold to creep into your home due to moisture buildup.
In addition to mold being a concern, the air quality in your home or business could also be effected, so ensuring your dwelling is properly insulated, can help irradiate these types of health concerns.
Insulation Investment Pays Off
If your home or business needs to be properly re-insulated, it can pay off in many ways. From reducing your heating and cooling costs, to ensuring mold is not creeping into your walls, along your windowsills, or into your carpets, and maintaining the overall air quality and health of the individuals living or working in this environment.
Spray Foam Insulation is the insulation of choice in order to keep a dwelling warm. It creates an airtight seal around windows and within walls, while still having the ability to allow your home or business to breathe through filtered air at the intake and outtake points. Often the misconception is that "airtight" insulation will reduce the air quality, but the opposite is actually true.
Our Polarfoam insulation is a soya-based polyurethane product derived from a vegetable base, and is rapidly replenishing and environmentally friendly. So not only is the end product beneficial, the product itself is renewable!
In addition to spray foam insulation, our services also include:
Batt Insulation Application
Fireproofing (parkades)
Soundproofing (Ceilings & Walls)
Frost Protecting Sprinklers
Crawlspaces
Foam Gasketing – R2000 & ADA
Firestopping
Air sealing
At Coast Spray Foam we want you to breathe easy, and maintain a healthy home or place of business for years to come. Call us today, or book a consultation to ensure your home or working environment is mold free, warm, and in optimal condition!