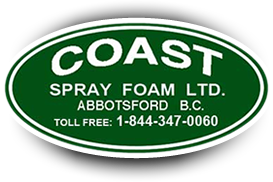 Understanding the Myths of Spray Foam Insulation
At Coast Spray Foam Ltd., we often have people call in to ask us about the safety or risks of spray foam insulation. There are many myths and misconceptions out there about the process and contents of spray foam insulation, so we wanted to take this opportunity to dispel them, and better educate our public on why it is not only safe, but also beneficial.
First of all, we are "GreenGuard Safe", and this seal of approval allows us to use spray foam in schools and hospitals, homes and businesses …without concern.
Which leads us to myth #1…
Spray Foam Insulation is Toxic
Polarfoam SOYA is actually an ecological foam formulated form recycled plastic material. It is a renewable soya product without any Ozone Depletion Substance blowing agent. It exceeds the highest requirements for volatile organic compounds, with the GREENGUARD Children and School and Indoor Air Quality certifications. So the "off-gas" you might have heard about is null and void, as our spray foam is actually chemically inert, leaving no odor or harmful vapors whatsoever.
Spray Foam Insulation isn't Eco-Friendly
Our Polarfoam product is a soya-based polyurethane, which is both rapidly replenishing and environmentally friendly. As a result, many green-based organizations like LEED and GREENGUARD promote the use of our products. Due to this, builders who use spray foam insulation are able to qualify for incentive programs through BC Hydro, Fortis, and Energy Star.
Spray Foam Insulation is Expensive
Research shows that up to 40% of a buildings heat is lost due to a poor building envelope. Spray foam insulation seals tighter to surfaces like wood and concrete; seals tighter in difficult little nooks; and seals tighter around windows, doors, and vents. These monthly heating and cooling cost savings alone makes up for any initial investments in having spray foam insulation installed.
Spray Foam Insulation Provides Poor Air Quality
When a building envelope is sealed tighter, less pollution and water can leek into your building. This means that air is filtered through intake / outtake points; and walls are less susceptible to mold and mildew growth – offering consistently clean air.
At Coast Spray Foam Ltd., we take into consideration your concerns and easily are able to provide solutions and answers. We feel our product provides many benefits, and believe you will too!