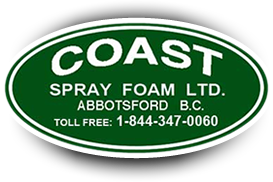 This Winter …it's all about layers!
An energy efficient home plays a large role in keeping your housing costs down. And who doesn't like to keep their costs down? Paying more for the same kind of comfort your neighbours are enjoying seems unnecessary, and at Coast Spray Foam Insulation we couldn't agree more!
Did you know that a lot of the cool or warm air in your home could be lost due to poor insulation? If you do not have a solid barrier preventing air from getting out of your home, you are literally letting your heating and cooling expenses escape from "thin air" …or poorly insulated walls causing the air to escape in the warm summer months and also get in during the chilly winter weather.
That is why we believe so strongly in spray foam as your source of insulation. It literally fills every crevice, and creates not only an insulated home, but also an airtight insulated home. Preventing any air from coming in, or getting out.
No layer should be left uncovered. Even the inner walls of your home should be considered when contemplating your insulation needs. Not only can insulating your inner walls be a sound barrier from room to room, it can also keep the heat or cooler air from leaking from room to room.
In addition, because there is wiring running through these inner-walls, spray polyurethane foam is a fantastic option as -once again- it fills in every crevice within your wall and leaves no room for leakage.
Also, just as a head covering in winter will keep you body at a warmer temperature as it prevents warmth from escaping the "roof" of your body, likewise, insulating your attic has the same effect. Your attic is not to be ignored, as it is the top and pivotal part of your home.
Ensuring your home is properly insulated does not only mean that you have insulated your home, it means that you have insulated your home with the appropriate material that will bode well for maintaining both the warmth and cooling of your home, as well as keep it dry and mold free, with the added perk of "going green" and using an environmentally friendly product such as polyurethane foam.
Give us a call if you have any questions, or to provide you with a free quote.