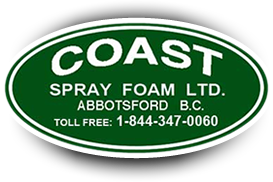 How To Winterize Your Home
At Coast Spray Foam, we can appreciate the unstoppable eco-friendly trend that our communities are moving towards with each passing year. Not only do we all desire to minimize our footprint on this planet, but saving money on our energy costs is also a delightful factor.
With that in mind, we wanted to address some simple steps you – as a homeowner – can take to better ensure your home is eco-friendly, as well as energy efficient. With winter waiting in the wings, getting a head start on this process will save you added effort under colder conditions. Addressing these green-objectives before the first nightfall of winter, will have you mentally and physically at ease once the frigid temperatures cause you to bump up the temperature in your home.
Steps to Winterize Your Home…
Seal Your Leaks
Ensure your home is properly sealed with weather stripping and caulking around all windows and doors. Statistics show that up to 40% of your heat can be lost through small crevices in your home that have not been properly addressed and sealed. Although they might appear miniscule, taking them all into consideration – you could likely throw a large ball through the accumulative size of hole it would create. And losing heat, at a cost, is not a fun sport to play.
As mentioned, the areas that are of most concern are your doors and windows, but by taking a lighter to your baseboards, light fixtures, and electrical outlets, you can also see if there are any small cracks in those areas that should be addressed.
Add insulation
Alternatively, and our recommended choice – is to add extra insulation. Whether you need to fill in these aforementioned areas, seal off your attic, or fill in your crawl spaces, insulation is another simple and effective way to reduce heat loss by up to 30%.
At Coast Spray Foam we have many insulation options for you to choose from. With alternatives to the traditional pink fiberglass of yesteryear, our popular Polarfoam soybean oil based products is just one of those options.
Call us today for an estimate on your project, and begin saving on your energy costs before the cold front has you spending more!